ScoutChecker Ver 0.2.1.2 2016/11/13 release!
You can see all of pin details with tree view at once.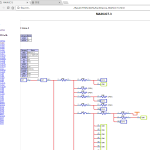 Please check wiki page for how to use ScoutChecker. ScoutCheckerWiki
---
Dear Circuit designer
Have you ever thrown away a PCB board of wrong pattern?
It's sad.
When the new PCB board is to connect between Power and GND,
you cannot so much as turn on the power.
When you make wrong PCB board, You maybe often write wrong Circuit diagram.
So I recommend this software.
This software will check the wrong point of Net list of Circuit diagram automatically before you make PCB board.
Net list Auto checker 「ScoutChecker」
This is free software.
And you can also use this as Net list viewer.